THE BEST OF SOUTH AFRICA: Mega endemics and megafauna
October 10-26, 2020
Tour leaders: Josh Engel and 2nd guide
$5550 per person sharing, $680 single supplement
Maximum 10 participants
New for 2020: Now four nights on safari in Kruger National Park in an open-sided safari vehicle!

Custom trips anytime.
There's a reason that South Africa is the continent's top tourist destination. Not only does it have incredible birding featuring a load of endemics along with outstanding mammal viewing in its well-run park system, it has world-class tourist infrastructure. The accommodations, food, and roads make traveling a breeze while we enjoy hornbills, bee-eaters, turacos, elephants, cats, and antelope.
Scroll through our south africa photo gallery below
Southern Ground Hornbill
One of Kruger National Park's top birds, these are a pleasure to watch as the walk around hunting in family groups. Photo by Josh Engel.
Birding in Wakkerstroom
Wakkerstroom is full of rare endemics and grassland birds. Here a local guide is helping the group see White-bellied Korhaan. Photo by Josh Engel.
Northern Giant-Petrel
Pelagic birding off of Cape Town is some of the best in the world. Most trips see both species of giant-petrels. Photo by Josh Engel.
Red-headed Weaver
Weavers are omnipresent in South Africa, occupying nearly every habitat from urban centers to deep forest. Photo by Josh Engel.
African Elephant
It's always a joy to watch herds of elephants in South Africa, where their populations are thriving. Photo by Josh Engel.
Drakensberg Siskin
The only place in the world to see this species is the southern Drakensberg Mountains of South Africa and Lesotho. It's a stuningly beautiful environment with great birds.
Comb Duck
South Africans know this species as Knob-billed Duck. The reason is obvious when you look at this photo! Photo by Josh Engel.
Sharing a moment with a Blue Duiker
South Africa's smallest antelope paid our group no heed as it foraged for just the right leaves on the forest floor. Photo by Jean Halford.
Botha's Lark
One of Africa's rarest and most endangered birds, Botha's Lark is only found in a small area of high-elevatino grassland in eastern South Africa.
Cape Robin-Chat
A common bird in coastal and montane areas in South Africa, they can be very tame in places like Cape Town's Kirstenbosch Botanical Gardens, where this photo was taken. Photo by Josh Engel.
Table Mountain
One of South Africa's iconic geological features is Table Mountain, seen here looking across Table Bay, which looms over Cape Town. Photo by Josh Engel.
Mist-belt Forest
The mist-belt forests of eastern South Africa are home to the endangered Cape Parrot and many other sought-after forest birds. Photo by Josh Engel.
Warthog with Red-billed Oxpeckers
Oxpeckers are a characteristic site in South Africa's wildlife parks. These ones were not only picking parasites off the warthog, they were hitching a ride to a waterhole to quench their thirst. Photo by Josh Engel.
Breakfast spread
South Africa is a great eating destination. Although we eat some breakfasts in the field, spreads like this sometimes entice us back to the lodge for breakfast. Photo by Josh Engel.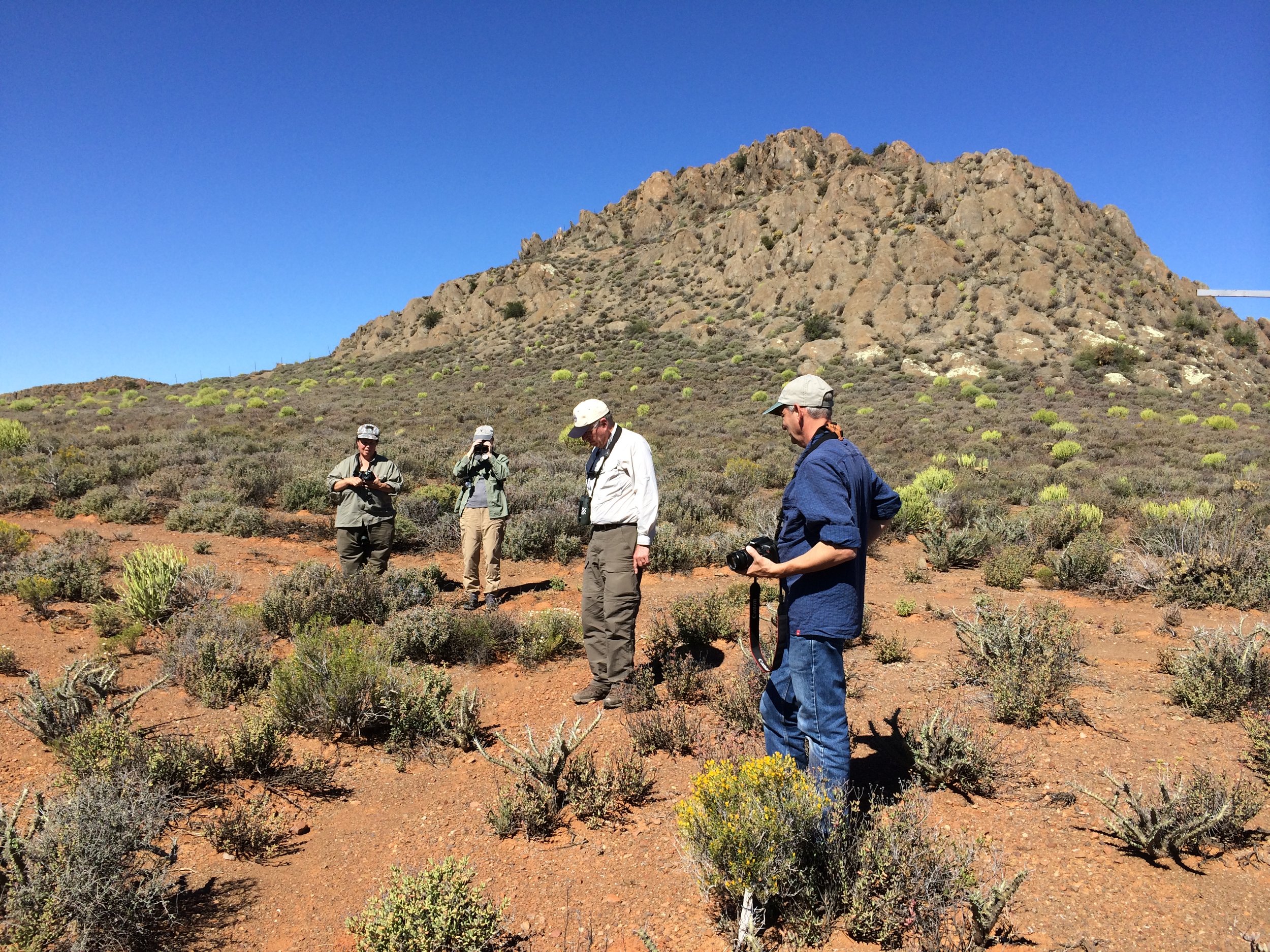 Birding in the Karoo
South Africa has extraordinarily varied habitats, each with its own unique set of birds. Here a group is searching for Karoo endemics in the arid Tanqua Karoo of western South Africa.
Black-backed Puffback
More often heard that seen, puffbacks are common birds of a variety of wooded habitats.
Oxpecker and ox
A Red-billed Oxpecker (or snotpecker, rather) forages on a Cape Buffalo, one of Africa's famed "Big 5." Photo by Josh Engel.
Bush Blackcap
Once a taxonomic enigma, the endemic Bush Blackcap is now known to be a Sylviid warbler. Photo by Josh Engel.
Cape Mountain Zebra
South Africa is full of endemic birds and animals, such as this beautiful zebra that is found in rugged areas in the western part of the country. Photo by Josh Engel.
Flap-necked Chameleon
We see a variety of lizards on our Africa tours; if we're lucky we'll see a chameleon or two. Photo by Josh Engel.
Giraffe
One of the iconic animals of the African bush, they are common in Kruger National Park, where our typical tours spend three days. We see a variety of lizards on our Africa tours; if we're lucky we'll see a chameleon or two. Photo by Josh Engel.
Leopard
This may be Africa's most beautiful cat, and it's the one everybody wants to see on an African safari. South Africa is a great place to see it. Photo by Josh Engel.
Brown-headed Parrot
It's always fun to see wild parrots. Fortunately this one is fairly common in South Africa. Photo by Josh Engel.
African Wild Dog
Africa's rarest predator, it takes some luck to see this beautiful canid. We see them on only some of our tours--but we certainly look on all of them! Photo by Josh Engel.
Red-collared Widowbird
A common grassland bird, most of our tours go during the southern summer when these birds are wearing their breeding finery. Photo by Josh Engel.
Male and female Lion
Two of a pride of 13 lions around a waterhole in Kruger, including many small cubs. Photo by Josh Engel.